Utilisation
Our Wand Massager is a powerful and versatile tool for external stimulation and can ultimately help reduce stress and tensions.

It can be use directly on the clitoris and erogenous areas, but also anywhere on your body. It is up to you to decide where you feel confortable using it, and you are in full control of the intensity level.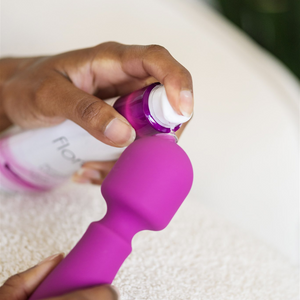 Functioning
Step 1
To activate vibration, press and hold the button for 3 seconds or until the vibration starts in its first mode. (Make sure the battery is fully charged)

Step 2
To navigate between the 10 vibration modes, perform a quick click on the button: the first 2 modes are constant and increasing vibrations, while the other 8 are pulsating modes.

Step 3
To turn off the vibrator, press and hold the button for 3 seconds or until the vibrator turns off.
Care
Hygiene measures are essential to maintain the proper balance of vaginal flora. For best results, disinfect your vibrator using Floravi's Steri-Clean before and after use.

Always store your vibrator in its original packaging, away from dust, and at room temperature. It is not recommended to share your vibrator with others. If necessary, use a condom.

To facilitate insertion and maximize your experience, use a water-based lubricant with your vibrator, such as Floravi lubricant.
Essentials
Don't forget to add the water-based cleaner and lubricant to your cart