Use
The dual stimulation vibrator has been designed to provide simultaneous stimulation of the clitoris and G-spot, allowing you to experience exceptional sensations.

This vibrator is made from high-quality materials and features multiple vibration modes and intensities to suit a variety of preferences. Using a dual stimulation vibrator can be a great way to explore your sexuality and improve your sexual well-being.

The vibrator is designed to provide targeted stimulation to two of the most sensitive areas of the female anatomy, which can lead to more intense and pleasurable orgasms. Using a vibrator can help you discover what you like and don't like, leading to greater sexual confidence and better communication with your partner.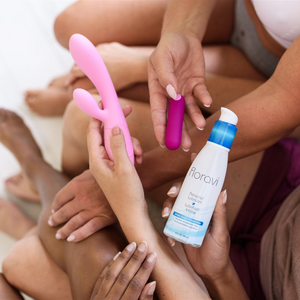 Functioning
1. Before first use, make sure the battery is fully charged.

2. Apply a water-based lubricant to the vaginal opening and clitoral area to improve sensation and reduce discomfort.

3. Activate the vibration by pressing the (+) button for 3 seconds. Press the (+) button again to cycle through the different vibration modes and intensities and find the one that best suits your needs.

4. Insert the vibrator into the vagina, positioning the clitoral stimulator against the clitoris. Move the vibrator in and out of the vagina at a pace and depth that is comfortable and pleasurable. Experiment with different positions and angles to find what works best for you. You may want to try using the vibrator during partnered sexual activities or incorporate it into other sexual activities, such as foreplay or masturbation.

5. Press the (-) button for 3 seconds to turn off.
Entretien
For comfortable use, it is recommended to use a water-based lubricant with the dual vibrator. The lubricant makes insertion easier and reduces friction, ensuring a smooth experience. Hygiene is paramount when using any sex toy, including the dual vibrator. Before and after each use, we recommend Floravi's Steri Clean cleaner to ensure safe and hygienic use of this toy.
Essentials
Don't forget to add the water-based cleaner and lubricant to your cart